If you're going off the beaten track where English isn't widely spoken, travelling through multiple countries or just worried that your language skills aren't up to it, then you'll be interested in hearing about the Pocketcomms global communicator.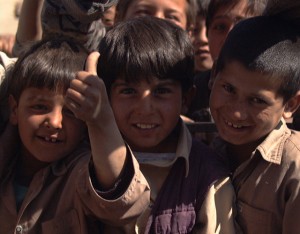 I met James Wyatt, the inventor of Pocketcomms at a Travel Blogger's camp in London, and he explained how he'd come up with the idea. As an army reservist in the British Territorial Army, James had found himself in Afghanistan, trying to communicate with local children. Drawing on years of experience as an artist and cartoonist, he found that drawing a picture was a quick way to communicate and so the idea of Pocketcomms was born.
Pocketcomms is a neat set of laminated picture cards, which fan out to show pictures of everyday objects including food and drink, transport, parts of the body, accomodation and a map of the world. You can use it to ask directions, explain an illness, order a meal or talk about your hobbies.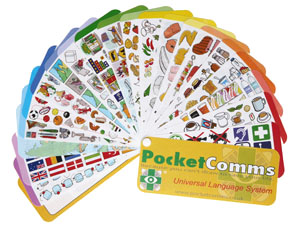 I must admit that initially I was sceptical about Pocketcomms, thinking about my recent travels in Europe, where everyone working in the hotels and tourist attractions I visit speaks good English. Anyhow, surely it would be polite to learn at least a few words of any language in a country you're visiting – I had attended evening classes in Spanish before my trip to Ecuador.
But then I thought about the rural villages in India I'd visited where 99% where the locals were very poor and didn't speak any English, and there aren't too many evening classes in Telugu, the local language. Being realistic, there are parts of the world where the local language is so unfamiliar that in a short stay it's difficult to grasp much more than Please and Thank you, so if your car breaks down or you fall ill you could find yourself in a tricky situation.
So I gave my Pocketcomms sample to my friend Joanne who was off on her trip to Peru and she came back raving about how useful it had been. Although she considered herself a profficent Spanish speaker, once she got out of the cities she found that local accents and indigenous languages made it difficult to converse with the locals. When she found herself in the local hardware store trying to buy a bath plug, Pocketcomms came to the rescue and she was able to find what she needed (and get a hot bath).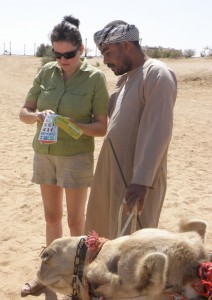 Joanne met Margariette, a little girl selling wrapping paper in Lima, and Joanne managed to find out all about her life using the pictures in the Pocketcomms guide. In fact Joanne, was so impressed that on her return, she gave the Pocketcomms to her daughter who was just about to travel to India, as well as buying several more to give to other people she knew who were just off on their gap year travels.
Now Joanne's daughter Jessica has been doing voluntary work in an orphanage in India with a friend and found the Pocketcomms was a fun and handy way of communicating with the children there. While travelling through India she used it again for finding her way to the train station, and when they got a tummy bug, the most well-thumbed page was the one with a picture of a toilet.
If you check out the Pocketcomms website you can find photos and testimonials from others who found it useful. I love this one of Jim's wife Kaye haggling over how many camels she could get for her husband.
You can buy the Pocketcomms directly from the website for around £11 including P & P in the UK. It could also be the ideal parting gift for someone who's just about to set off on their gap year travels or round the world trip.
Happy Travels!
This article by Heather Cowper is published at CoolTravelGear.net
You'll also find my Travel tales, videos and podcasts at Heatheronhertravels and my tips on how to build a better travel blog at My Blogging Journey